Health Issues: Yes We Do Care!
Teddy Mommy see each poodle's life and health importantly. She doesn't allow anything to happen to her poodle. Therefore, if the poodle has any small issue before departure, Teddy Mommy will not allow it to travel to oversea under any circumstance.

Moreover, not even the government of Taiwan will allow a dog with abnormal temperature to leave the country. That said the regulation of animal in Taiwan is very strict and very trustworthy.
Teddy Mommy's business is now well-known across countries, from China, Hong Kong, Japan, Macau, Singapore, Malaysia to USA, UK and other EU countries.



Greetings To All Poodleholics and Future Poodle Owners...

At YouLong, we have all types of Teacup Poodle Puppies (Teddy Bears)
available to meet individual requirements and preferences.
We assure you that this is the BEST WEBSITE to purchase your
dream Teacup Poodles (Teddy Bears) online.

On the YouLong Breeding Center website, we provide poodles of
wide colour selections: red, black, white, chocolate/brown poodle, apricot,
cream, silver/grey and mixed colour; and also of a broad range of body sizes
such as Toy Poodles, Standard Teacup Poodles, Big Teacup Poodles,
Small Teacup Poodles, Super Tiny Teacup Poodles,
and the world's smallest Pocket Teacup Poodles.

The information about puppy descriptions, health conditions
along with the individual estimated adult sizes of all
Teacup Poodle Puppies (Teddy Bears) listed on the
YouLong Breeding Center website are
!!!~ 100% GUARANTEED ~!!!

With the help of our professional poodle breeder's team,
we are able to provide our clients the most professional and precise
suggestions and advices about how to raise a poodle puppy properly.
We NEVER cooperate with other poodle breeders NOR do we
purchase puppies from other kennels to sell to any of our customers:
Sole Proprietorship - Each and every poodle puppy you see on the
YouLong Breeding Center website is bred, raised and sold directly
by our very own YouLong Professional Poodle Breeder's Team.

With over two decades of experiences in poodle breeding,
Teddy Bear Mommy acknowledges the fact that in order to successfully
advance the quality in this particular breed (Teacup Poodles),
a lot of personal desires have to be sacrificed in order to achieve
a much bigger, and also more meaningful, goal in life.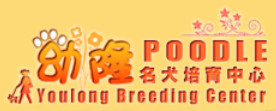 Even up until now, when YouLong Breeding Center is already a
world famous 5-Star Poodle Breeding Center run by professional
poodle breeders, fully equipped with the high-technology
software/hardware required to provide Teacup Poodle Puppies
(Teddy Bears) the best living environment
to grow into cheerful, strong and healthy adult Teddy Bears

Apart from the quality nursery environment provided at
YouLong Breeding Center, regular clean-ups and
sanitizing are also necessary in order to maintain
YouLong Breeding Center a comfortable living environment
suitable for both humans and Teacup Poodle Puppies (Teddy Bears).

I am Teddy Bear Mommy, and this is the story of our
Teacup Poodles (Teddy Bears). I can't wait to introduce you
the world's most amazing, beautiful and magical creatures:
the love of my life, Teacup Poodles (Teddy Bears)
that live happily in harmony in my YouLong Breeding Center.

Poodleholics please check out...
YouLong Breeding Center Official Website
to see more Teacup Poodles (Teddy Bears) available;
alternatively, contact us if you have further inquiries.
www.teddybearmommy.com


Poodleholics Hotline

+886-972862226 +886-963110478 +886-975785398

Email 1: a5299.a3344@msa.hinet.net (main)

Line ID : teddymommy Store: +886-6-2292569

SKYPE: teddy52999 QQ: 603042543 Whatsapp: +886-972862226

Email 2: teddy5299@hotmail.com Email 3: teddy5299@gmail.com

via Social Net Works

Facebook Page: TeddyMommy Google+: +TeddyMommyTeddy

Twitter: @teddy5299 Plurk: teddy5299 Flickr: teddy5299

Tumblr: teddymommy Pinterest: teddy5299

Feel free to contact us if you have other questions