The ONLY YouLong Poodle Breeding Center in the world!!
!!! FAKE FAKE FAKE !!!
the reward of the 2014 Teacup Teddy Bear Impostor goes to...
Beijing Chong Shang Quan Ye (北京宠尚犬业)

yes, once again we'd like to give our friendly reminder to all
Poodleholics / Teacup Teddy Bear lovers / poodle owners that
there has only been, and always will be,
just ONE, and one only,
YouLong Poodle Breeding Center.

Taiwan is our root,
wherever Teddy Bear Mommy is,
her Teacup Teddy Bears (Teacup Poodles) will follow.




omg omg omg!!! where are we???
please come and save us, Teddy Bear Mommy,
our photos have been KIDNAPPED AGAIN in China!!



Teacup Teddy Bears wondered:
we have been living happily in Taiwan with
Teddy Bear Mommy and her little helpers
at Taiwan YouLong Poodle Breeding Center.
all this time, and how did we even end up in CHINA???

they even changed the original YouLong website link
from www.52993344.com to theirs?!?!
we're awfully surprised by their photoshop skills!!




not just one, or two Teacup Teddy Bears...
an entire TWO PAGES of FAKE PHOTOS stolen from
the YouLong Poodle Breeding Center website.



all the time and efforts of Teddy Bear Mommy's
was taken away by a few simple clicks on the mouse
by those impostors...

the center of our most valued belief is that
Good quality is something that can never be replaced.

there's no secrete in these beautiful Teacup Teddy Bears we have,
but 20+ years of experiences and non-stop wholehearted dedication
of our head breeder, Teddy Bear Mommy,
and her professional teacup breeder specialists.


please be extra careful when purchasing
Teacup Teddy Bears (Teacup Poodles) online.
YouLong Poodle Breeding Center
is the only Teacup Teddy Bear breeding facility in this world,
and that we do not, and will never, cooperate with others.



!!Watch out!!
!!!!!Our puppy pictures are snatched!!!!!
THE ROBER--BLUE FLAG PET SHOP FROM CHINA
Important notice: There is only ONE YouLong Breeding Center!!




This is No 041 puppy from YouLong~↑↑↑
Even the 2007 Party is bootlegged!!



No. 950 is a pocket poodle↑↑↑
She is almost 1 year old!! Most important of all, I am a girl!!!
Here is No. 950

↑↑↑


And No. 040!!↑↑↑

------------------------------------------------------------------------------------
Can everyone see, the pet shop in China has stolen our customer feedback and altered it a bit and the rest has remained the same!!
This is way too ridiculous. It is hard to imagine something like this happened??
And, they had changed all the names of each puppy and even their parents'. Ummm..
X Fake You-Long X
Offical You-Long & Jia-Qiao
Fake You-Long's website link: http://item.taobao.com/item.htm?id=13502667969

Well. I guess all the parents can prove who is telling the truth.

Another one↓↓
Fake again!!     
This time they just cut a piece in each of our videos??
We have spent loads of time to build up our website, pics, videos etc. We are mad!!
Just give us a break, do not copy again. Teddy Mommy thinks most of the customers will know whom to trust after a little investagtions.






we don't randomly blame other breeders, we all got the evidences to support our statement.

+Teddy Mommy is here to clarify the rumor! +



Our poodle family's Year End Party's (2007/12/29) photos
appear in China Shanghai Lingkong Official Website

Photos from
YouLong Family TeddyBear2007 Year End Party

This photo is taken by Teddy Mommy
We really have no idea why those people want to misappropriate our photos




The photos is also being misappropriate also T_T
----------------------------------------------------------------------------------


Teddy Mommy is currently does not have any cooperation with any other pet agents!
No matter in Taiwan or foreign country.
There have been unscrupulous operators embezzled YouLong and Jia Qiao websites, blog photos and others related content,
And use it on their own personal website content !!!
We are here to warned consumer do not easily believed and being fooled,
If found, please contact us as soon as posslble!
Recently, we found out that the mainland China Shanghai "royal VIP" extensive use of the family's photo content, And in the absence of any notice of the case also unauthorized changes to the photo as their own to use ~
The evil says:
Well, after all I am the winner of this battle as I delicate myself to my poodle career.

The following is the team of You-Long:
:
Teddy Mommy-
The director and owner of You-Long. Teddy Mummy has to deal with all the chores at the same time.

Small Teddy Mommy 2- Sis C
She responses to tidy up the poodles and report to Teddy Mommy regularly.

Assistant 3.4.5 :
Sis S、W、A、U

1. They take care of poodles' daily meals and nutrition.
2. 24 hrs cleaning routine, including puppies' towels, toys and living environment. These sort of chores might seem small but without them it's difficult to run You-Long smoothly.

The angle says:
Exactly! Every co-worker in You-Long has devoted themselves toward this breeding center, in order to keep You-Long running smoothly and successfully.
Small Teddy Mommy even cries when we hand puppies to customers. I think the hard work is worthwhile. And this has shown You-Long is different from others
Evidence three
America – (Fake poodle –C level)
I have to say the context is a bit dull so I listed it as C level.

Anyway, all the poodle lovers, please do research to the business before you make a purchase with the shop/breeder. This would keep you from further troubles.
*Duplicated You-Long in China has been published on 1998/05/07
---
Others might copy You-Long's wording but the quality of the poodles?

As we know of there are some luxury bags and mobiles have been duplicated. Teddy Mommy can't believe even poodles (living animals) can be duplicated.
Discovery of fake website in China:

Lately, there are more and more people emailing us and wondering if You-Long has opened a branch in Shanghai, China. That's why we discovered the fake You-Long with their fake poodles.

At first, Teddy Mommy didn't know how to react to this news. She couldn't believe this is actually happening to her. And the website has copied most of our words and pictures. It was 99% similarity to You-Long's.
↑↑↑↑↑↑↑↑↑↑↑↑↑↑↑↑↑↑↑

This one below is the fake website from China!
↓↓↓↓↓↓↓↓↓↓↓↓↓↓↓↓↓↓

This is the real Jiao-Qiao (You-Long) website.!
The fake website from China hadn't gotten You-Long's permission before they copied and posted everything onto the fake website. But we believe our customers will know how to distinguish the differences.

Attention please! Mobiles may be able to duplicate to exactly the same ones. But, there is no possibility that a living animal can be duplicated!


Especially the quality and poodle's pedigree can't be duplicated.

Teddy Mommy never opens a branch in China. If any customer has bought any puppy poodle from the fake You-Long in China. We are afraid that Taiwan You-Long can't take the responsibility from that!

Please be aware of the following statement that You-Long doesn't respond to any of the fake branch and website purchase. We can only suggest customers to pay more attention to it, otherwise, the same issue would happen to you again.

*You-Long / Jia-Qiao also appears in SiChuan, China. Please be aware of that!
According to our customers from China, they asked if You-Long has opened a new branch in SiChuan. Teddy Mommy really wishes the problems of piracy can be minimized in the near future.

Breeder of You-Long, Teddy Mommy, blames all the pirates who took our hard works for nothing. Teddy Mommy wants to have a sustainable poodle business. She devotes herself to You-Long breeding center and continuously invests money into new poodles from America and JP with best genes.

You-Long's hard works can be seen from our teacup poodles | toy poodles.

Before you buy a new poodle puppy, please do the research for the seller that you wish to buy your poodle from. Secondly, Teddy mummy can guarantee you can find your loving poodle easily in You-Long.

You can find different sizes and colors of poodles in You-Long, for size we have toy, toy- teacup, teacup poodle; for color we have red, gray, cream, black, chocolate. etc.
Greetings To All Poodleholics and Future Poodle Owners...
At YouLong, we have all types of Teacup Poodle Puppies (Teddy Bears)
available to meet individual requirements and preferences.
We assure you that this is the BEST WEBSITE to purchase your
dream Teacup Poodles (Teddy Bears) online.
On the YouLong Breeding Center website, we provide poodles of
wide colour selections: red, black, white, chocolate/brown poodle, apricot,
cream, silver/grey and mixed colour; and also of a broad range of body sizes
such as Toy Poodles, Standard Teacup Poodles, Big Teacup Poodles,
Small Teacup Poodles, Super Tiny Teacup Poodles,
and the world's smallest Pocket Teacup Poodles.
The information about puppy descriptions, health conditions
along with the individual estimated adult sizes of all
Teacup Poodle Puppies (Teddy Bears) listed on the
YouLong Breeding Center website are
!!!~ 100% GUARANTEED ~!!!
With the help of our professional poodle breeder's team,
we are able to provide our clients the most professional and precise
suggestions and advices about how to raise a poodle puppy properly.
We NEVER cooperate with other poodle breeders NOR do we
purchase puppies from other kennels to sell to any of our customers:
Sole Proprietorship - Each and every poodle puppy you see on the
YouLong Breeding Center website is bred, raised and sold directly
by our very own YouLong Professional Poodle Breeder's Team.
With over two decades of experiences in poodle breeding,
Teddy Bear Mommy acknowledges the fact that in order to successfully
advance the quality in this particular breed (Teacup Poodles),
a lot of personal desires have to be sacrificed in order to achieve
a much bigger, and also more meaningful, goal in life.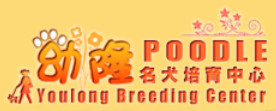 Even up until now, when YouLong Breeding Center is already a
world famous 5-Star
Poodle Breeding Center run by professional
poodle breeders, fully equipped with the high-technology
software/hardware required to provide Teacup Poodle Puppies
(Teddy Bears) the best living environment
to grow into cheerful, strong and healthy adult Teddy Bears
Apart from the quality nursery environment provided at
YouLong Breeding Center, regular clean-ups and
sanitizing are also necessary in order to maintain
YouLong Breeding Center a comfortable living environment
suitable for both humans and Teacup Poodle Puppies (Teddy Bears).
I am Teddy Bear Mommy, and this is the story of our
Teacup Poodles (Teddy Bears). I can't wait to introduce you
the world's most amazing, beautiful and magical creatures:
the love of my life, Teacup Poodles (Teddy Bears)
that live happily in harmony in my YouLong Breeding Center.
Poodleholics please check out...
YouLong Breeding Center Official Website
to see more Teacup Poodles (Teddy Bears) available;
alternatively, contact us if you have further inquiries.
www.teddybearmommy.com

Poodleholics Hotline
+886-972862226 +886-963110478 +886-975785398
Email 1: a5299.a3344@msa.hinet.net (main)
Line ID : teddymommy Store: +886-6-2292569
SKYPE: teddy52999 QQ: 603042543 Whatsapp: +886-972862226
Email 2: teddy5299@hotmail.com Email 3: teddy5299@gmail.com
via Social Net Works
Facebook Page: TeddyMommy Google+: +TeddyMommyTeddy
Twitter: @teddy5299 Plurk: teddy5299 Flickr: teddy5299
Tumblr: teddymommy Pinterest: teddy5299

Feel free to contact us if you have other questions