Incident: Death of Pocket Teacup Teddy Bear Poodle (Fei Fei @ Hong Kong) caused by Hypoglycemia / Low Blood Sugar due to owner
Today we are about to share this heartbreaking story with you:
Our Pocket Teddy Bear,
FeiFei (sold to Hong Kong),

was not properly fed with the minimum daily nutrition
she was supposed to have for more than 2 weeks
since her arrival at her new home, resulting to fainting

due to hypoglycemia (low blood sugar) followed by death.
(insufficient nutrition intake in a long period of time, causing
a huge drop on her energy level, high possibility of death)

Lovely photos of our Pocket Teacup Teddy Bear Fei Fei
prior to her departure to Hong Kong(fully grown at 10 months of age)
Fei Fei's Birth Date: 2016/04/15
Fei Fei was bred and raised singlehandedly by Teddy Mommy
since birth, and grew to be a beautiful, rare petite size
Pocket Teacup Teddy Bear
before she moved to Hong Kong
at 10 months of age. It's still hard for everyone at YouLong to believe
that she would pass
away so soon with her time being in Hong Kong
was only less than one month...
During the 10 months of Fei Fei's time grew up at
YouLong Poodle Breeding Center, she was always full of energy,
following Teddy Mommy around demanding for cuddles and kisses.
Many poodle lovers who visited YouLong during that time also met
Fei Fei
in person, and they all
fell in love with her personality and
unlimited
energy
instantly.
There was absolutely no health issues with Fei Fei during her
10 months of stay at YouLong, she also received an overall health
check at the veterinary clinic to ensure everything was okay
before departing to Hong Kong.

we are 120% confident that Fei Fei arrived in Hong Kong in
GREAT health conditions .
(we have conversation records with
the new owner
to back up our statement)
However, it was devastating to hear the bad news in
less than one month since the new owner took over.

what's done has already been done,
despite all,
we hope for the best of Fei Fei in the other world
The main reason Teddy Mommy chose to bring the story of Fei Fei
to public is because we wish for whoever is interested in


Pocket Teacup Teddy Bears,

or even intending to purchasing for one,
to put in more efforts into developing their professional knowledge,
so that they can handle such unique, and petite poodle breed
more easily, and avoid Fei Fei's death tragedy to repeat.

We are also telling the story here as a whole,
with conversation history and photos as reference,
so that the outsiders know
what ACTUALLY happened
as we noticed the previous owner tried to deny all the wrongs.
We hate to tell stories of a dead child.
Hope this is going to be the first and last time we tell the stroy.
We will never forget the lesson you taugh us with your own life,
and thank you for all the joy and laughters you have brought to us,
we will remember your dearly, in the deepest part of our heart!


How this happened?
Miss Lau contacted YouLong about her plan of getting a
Pocket Teacup Teddy Bear for her underage son's
birthday present
during this time YouLong Poodle Breeding Center stayed
a close contact with Miss Lau to keep her updated
on the development of Fei Fei.
This is the video of Fei Fei at aound

5~6 months of age,
before she departed to HK,

running around happily and freely


at YouLong, she was still going through her fur-changing period,
you can see her hair color seems lighter, it's all natural during this time!

(similar to the puberty of puppies)
Photo of Fei Fei and her new owner
after arriving in HK
Fei Fei (purchased from YouLong)
and the other Gray Teddy Bear at home (not from YouLong)
Before Fei Fei departs, YouLong's

another reminder


(regarding feeding techniques and giving Fei Fei extra nutrition supply)
TWO days since Fei Fei's arrival in HK, Miss Lau was


still unclear about how to feed Fei Fei properly


so she seeked YouLong for help again.
we explained the steps clearly and carefully,
and even gave additional advice just in case.
For about TWO weeks since Fei Fei arrived in HK, Miss Lau

sent us Facebook, WeChat messages to tell Teddy Mommy that
Fei Fei
"died for no reasons"
"i found her head down, and the doctor said she was
suffering from hypoglycemia for a long period of time, and so she died"
Miss Lau even asked her family and friends to phone in to YouLong
to block our main phone line for quite a while.

➡️ First of all
on the day Fei Fei passed away, Teddy Mommy was busy
delivering new puppies.

This is a life matter to us

,
if anything went wrong during the process,
both the mother and her puppies would sacrifice,
we could not just call a quit anytime we want.
but Miss Lau and friends kept calling and demanded to speak
to Teddy Mommy in person immediately, without asking if
Teddy Mommy had the time available, nor did they care if Teddy
Mommy was all caught up with work as they called unexpectedly.

➡️Secondly
we do not discuss sold puppy details with anyone apart from
the owner or the buyer for obvious reasons: they don't know
what happened before, during and after the purchase, nor are they
responsible for the caring of the puppy, they play no part in this,


YouLong does NOT have the responsibility to explain anything to them.




Miss Lau also mentioned in the conversation that, Fei Fei had been
missing out on the meals for 14 days since her arrival in HK,
she took only

8 ~ 10 units of dog food

on a daily basis.

after confirming with YouLong that the owner has to pay
full responsibility if the Fei Fei died of hypoglycemia,


starting from here, Miss Lau changed her story,

the cause of
Fei Fei's death went from

hypoglycemia to heart diseases,


and suddenly an

eyeball blood test

was operated in the middle
of our conversation? According to Miss Lau, HK veterinary clinic
suggested an autopsy on Fei Fei before the death of Fei Fei can be
further confirmed.
Miss Lau then turned to YouLong and demanded
us to pay for the fees so that she can have the HK vets to
place an autopsy operation on Fei Fei.
(YouLong received NO medical reports from Miss Lau until our
conversation with her ended on 2017/03/06, only some photos of
the front gate of an unknown vet clinic in Hong Kong)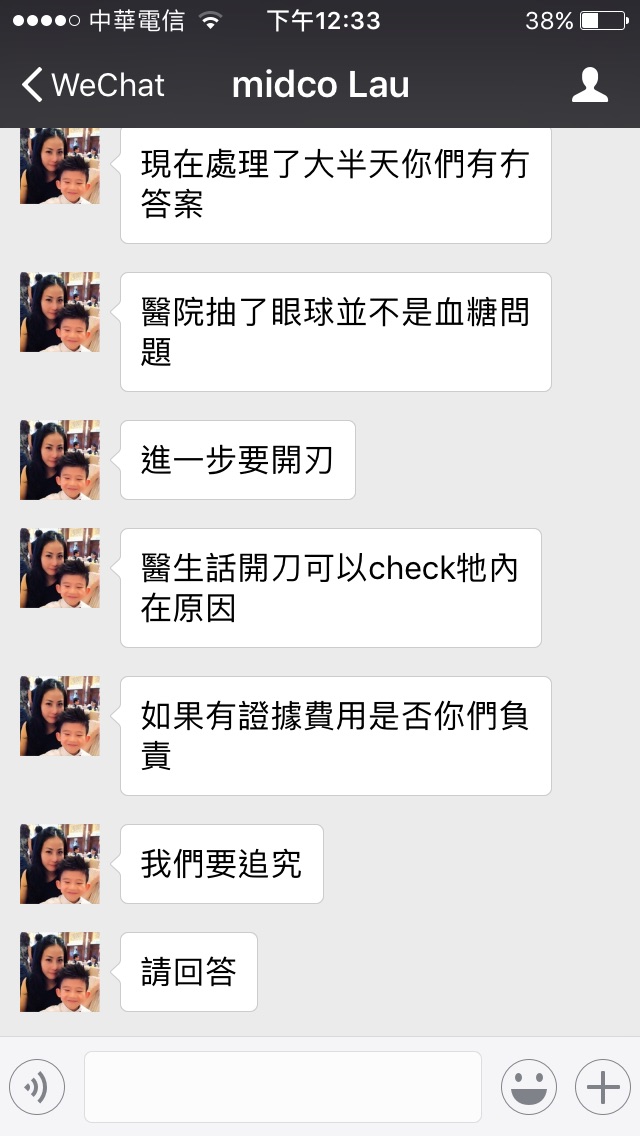 Fei Fei as an adult (fully grown), before she departs to Hong Kong,
enjoying her time at YouLong as usual, running around,
following Teddy Mommy to places happily.
She got past her

fur-changing stage (puberty)

already, her hair
all

curled up in dark crimson color,

extremely beautiful Teddy Bear!
Reply from YouLong Poodle Breeding Center:
Fei Fei boarded to Hong Kong with legally verified health reports,
we guarantee she was in

perfect health conditions
upon departure.
We are sorry to hear the death of Fei Fei, however deaths caused by
owners incorrect methods of care is not covered by our Health Warranty;
please provide additional support materials if the death of Fei Fei
was caused by

genetic diseases

, we will begin processing your request.

Fei Fei's vivid, outgoing personality had brought a lot of joy to us,
all the staff at YouLong was devasated for your loss of such a darling,
we believe it's going to be hard to accept for all your family,
especially for your son, he must be needing your extra attention.

There's nothing more we could do to bring Fei Fei back to life
at this point, but please send us relevant medical materials soon
so we can come up with a solution for this.

we only have the health certificates of Fei Fei at the moment,
if you have other documents to prove the death cause of Fei Fei
was due to
genetic diseases

, please forward them to me
so that I can process your request as soon as possible.
Fei Fei was perfectly healthy, full on energy,
loved to stay close to people before she departed overseas.

puppies born with genetic heart diseases would not be able to
run or even breathe normally like Fei Fei did.

deaths caused by
genetic heart diseases

are for example:
puppy dropped to death

during rapid exercise

due to


sudden heart paralysis,

definitely NOT

hypoglycemia.
⬇️⬇️⬇️⬇️⬇️⬇️⬇️⬇️


Miss Lau went back and forth wring various messages and comments
on Facebook, WeChat, so we replied to them on Facebook all at once.
See Blue column for replies from YouLong Poodle Breeding Center:

Owner Requirements vs YouLong Solutions:
1. Fei Fei was purchased as Miss Lau's underage son's
birthday present.

Miss Lau insisted that she's had experiences in
looking
after Pocket Teacup Poodles as she already has one at home.




Friendly Reminder from YouLong

➡️

Without the care from experienced owners,
the life of Pocket Teacup Teddy Bears are in great threat.

Teddy Bears are children with true feelings and souls,
especially with such

petite, delicate body size,
Pocket Teacup Teddy Bears are extremely rare to find in the world


they are

NOT toys,

they are living animals with all senses,
they need to be catered for with tender and love,
extra attention is needed especially on their diet.
if without the guidance from an experienced owner,
Pocket Teacup Teddy Bears
should NEVER
be given away as gifts to underage children!!!
2. Miss Lau asked YouLong to be responsible for the payments
required
to
operate an autopsy on Fei Fei, not only that she also asked
for a
full-refund on Fei Fei, and also "demanded" for a new puppy from YouLong.
➡️
This is

Extremely Irrational


Fei Fei died because she was not fed enough nutrition
for more than 14 days by the owner after her arrival in HK,
yet the owner asked for a new puppy after Fei Fei's death?
➡️
for the owner being lacking so much on the basic knowledge,
she definitely needs to be

re-educated

on treating animals fairly.
if the owner continues to ignore her own lacks on the
knowledge required before buying rare poodle breeds
such as Pocket Teacup Teddy Bears, nor is she willing to drop her
attitude to actually listen to and learn from the support materials
provided by the professionals,
only choose to do things
Her Own Way stubbornly,
the result is easy to see,
death counts will only increase if she buys more Teddy Bears.


➡️

Reply from YouLong:


it's not fair for you to

"demand"

anything from us,
as the death of Fei Fei was mainly due to your incorrect care
method for Fei Fei, but you won't even admit to it.
All you do is blame Fei Fei and YouLong for everything
we do not know how to assist you further.
try to calm down and think things through, reply us later,
maybe take a walk outside with your son and hubby to cool down.


after this, Miss Lau started to put the blame on
YouLong Sales Regulations, insisted that we were having trouble
understanding her and that we were using the Law against her
(as an innocent housewife who knows little about the outside world.)

➡️
We are definitely not using ANYTHING against you
nor have we ever made any judgement about your Law knowledge.
it was necessary for us to record all conversations when
conflicts occur during/after sales. just basic rules.
we only hope for you to see the whole context of
Fei Fei's death incident, be honest and rational.
We won't say NO to people who are willing to learn
how to take care of a Pocket Teacup Teddy Bear,
perhaps a second chance for the owners too,
so that owners understand how important nutrition is
especially for uniquely petite size Pocket Teacup Teddy Bears.
however with your attitude of denying all faults
and trying to point fingers at other people,
we were really experiencing a difficult time
communicating with you.
it's very important that we both put ourselves
in one another's shoes to look at things from a different angle.




without any valid medical reports,
Miss Lau once again claimed that :
" I'm

100% confident

that (Fei Fei) did not die of hypoglycemia,
but if you want to see doctor reports
I will need to request for an autopsy,
and it would be a waste of my money
if you (YouLong) do not agree to pay me back
(HKD$6,000 for the autopsy) afterwards.

➡️From our understanding:
Miss Lau jumped into her own conclusion without backups
from any official documents that Fei Fei died of heart diseases.
and that YouLong should pay her HKD$6,000 to perform
an autopsy on Fei Fei

because she's not willing to Waste Her Money.



Does this sound reasonable to any of you??
Our beautiful FeiFei, always full of energy,
spent

over 10 months

in Taiwan with us,
went from being a baby to an adult,
arrived at Hong Kong in perfect health conditions,
but you

did not notice she was

never getting enough food,
only a few units of dog food per day...
Poor Fei Fei starved for two whole weeks
and finally her body could not take it anymore,
she collapsed and died of

hypoglycemia.


all you did was accusing her for carrying biological heart disease
without any medical evidence, and even DEMANDED
YouLong to pay FULL responsibility that
we should compensate Miss Lau a new puppy,
refund the amounts she paid for Fei Fei and
also HKD$6,000 to perform an autopsy on Fei Fei!?

➡️
Despite the fact that you listened to NONE of our advice,


you were unable to give us a clear answer
about how you
fed Fei Fei, with how much quantity,
8 or 10 units of dog food you said she had,
then you said she ate the whole plate;
this second you said she died of hypoglymecia
and the next second you said it was heart disease,
changing your story back and forth until we realised
you were just trying to deny the fact that


you did not take good care of Fei Fei


and now that Fei Fei's dead,
all you wanted was your money back,
and for us to pay for your medical bills.
this is absolutely

unacceptable.



➡️
if you insist to cut up Fei Fei's corpse, we welcome you to
come to our Verified Vetenary Hospitals in Taiwan
for a more advanced medical checkup.
We are unsure of how

experienced

HK vets are in handling


such rare, petite size poodles like Pocket Teacup Teddy Bears.


We have Teddy Bears grew up happily and healthily all over the world,
in Hong Kong, Italy, Belgium, South Africa ... and many more.
Those owners learned techniques about how to take care
of their precious petite size Teddy Bears with their
most friendly and humble attitude,
the first person they seek advice regarding Teddy Bears
would be Teddy Mommy, and they'd either call or message YouLong
not just wait until nothing more can be done to fix the problem,
if a Teddy Bear is dead, it's dead, everything is too late.

but you were overly confident with your previous experience in poodles
that you hardly listened to our advice
nor did you followed our feeding instructions booklet.
Teddy Mommy dedicated 20+ almost 30 years of her life in studying
and breeding Hundreds of Pocket Teacup Teddy Bears;
we are proud and confident to say that no-one,
or any medical facility in the world, can beat this record yet so far.

BUT YOU CHOSE TO FIX THE PROBLEM YOUR OWN WAY.


We did not ask for an autopsy on Fei Fei,

YOU DID.
Since you have made your choice,
please follow our Sales Policies and Regulations
regarding Animal Autopsy.

➡️We made ourselves clear in the first place that:
we need owner's

total honesty

to proceed to the next step,
but all you had been asking was compensations and refunds
on your purchase and even additional medical expense.
you showed ZERO awareness towards your neglection on
Fei Fei's nutrition intake during the past two weeks prior to her death
you were totally avoiding, on purpose, the fact that
hypoglycemia was the true cause of her death.



Friendly Reminder from YouLong Poodle Breeding Center TO THOSE WHO ARE INTERESTED IN
POCKET TEACUP TEDDY BEARS ➡️

The Minimum Daily Nutrition Intake for Pocket Teacup
Teddy Bears is 120 ~ 130 units of dog food.

YouLong always provide a BIG bag of


FRESH Royal Canin APR33 dog food


to travel with Teddy Bears to their new homes.

still not comsuming enough? mix in some cooked egg yolk, egg white
or delicious canned dog food.
do whatever you can to make them EAT, it's fine for Pocket Teddy Bears to look a bit chubby;
they have a very small stomach (take it as a micro battery pack)
that can only carry a very limited amount of energy,
and their energy won't last for a long period of time
even if they have done the best eating they could.

Best for them to divide diets into
a mininum of 3, best to be 4, meals a day. only two meals a day will put their life in great danger.


➡️
Reply from YouLong:
Fei Fei was happy to be home, and we were also very glad how much you loved her, took her everywhere you went, but it's two totally different things; love does not prevent Fei Fei from hypoglymecia.
Every Pocket Teacup Poodle Teddy Bear has different ways of eating, there's no SOP for them, especially when there's been

changes in environments,
Extra Attention needs to be put on her diet habit.





You don't know how to Hand-Feed Fei Fei, it also one of the reasons to her death.


you only

left the food there,

seeing it's disappeared,


guessing that maybe she ate some,

but perhaps your other poodle ate it?



For such petite body size like Pocket Teacup Poodle Teddy Bear

they require

Special Care,


they are more suitable for owners who makes daily records to control and observe their eating habits.


During the adjustment periods, all details should be catered for wholeheartedly.



Now that you understand how much effort you need to put into raising a Pocket Teacup Poodle Teddy Bear? Especially after they arrive at new places, all the details must be carefully followed.
.
We repeatedly asked to you pay attention to all the knowledge and instructions we had been teaching you, informing you its importance. We can totally understand how happy owners would be when seeing their Teddy Bears that sometimes they forget the things we tell them; and that's why we

keep repeating ourselves to ensure the information actually get to them

. Do you still think that we don't care a thing about Fei?
4. For no reasons Miss Lau blamed YouLong for being rude, and not only she ganged up with their friends and family to block up YouLong's telephone lines, they also spred the rumours on the internet that Fei Fei died of heart diseases, trying to cover up the fact that Fei died of hypoglycemia.
(in the private conversations the owner shared with
YouLong Miss Lau mentioned that Fei Fei fainted because of insufficient nutritions)
➡️

All information backed up by YouLong Legal Team



While speaking with Miss Lau, this other person BoBo Man and other people who never engaged with YouLong also appeared under those comments, and together they continued to damage the business reputation.

➡️
We already responded to you that you need to be face the truth that Fei Fei passed out due to

hypoglycemia

, which then lead to her death, but instead of that, you chose to point your fingers at Teddy Mommy and her Teddy Bears.

You had a huge lack in your professional knowledge in Teacup Poodle Teddy Bears yet you refused to search for our professional assistance

;
You ended the life of our Precious Petite Size Pocket Teacup
Poodle Teddy Bear and all you wanted was your money back? This just does not make any sense to us.
➡️
We just cannot understand why you

change Fei's reason of death from hypoglymecia to heart diseases

, and

without any legit medical materials

you kept asking us to pay for Fei's autopsy

you are going to perform on her.
We have shipped out so many Pocket Teacup Poodle
Teddy Bears to all parts of the world, including Hong Kong,

but we cannot guarantee that our Teddy Bears will never die especially if the owners have not been taking good care of them

. Take obstetricians for example, none of them would be able
to guarantee that all the babies they help to deliver would grow to be healthy adults and live a happy life forever without any accidents; and if the parents don't take care of their babies and cause them to die, would you ask the obstetricians to pay full responsibility as

5. Miss Lau accused YouLong for fraud sales behavious and threaten to spread this information on the Hong Kong forum.

You don't lie when you have nothing to hide.
We have been building our business repuation based on total honesty and sincerity for over 30 years, providing all the information we know about Teacup Poodle Teddy Bears and putting up important instructions we compose on ourselves publicly on the internet to share with everyone whoever is interested to know more about Teacup Poodle Teddy Bears despite ages, languages and locations.
Teddy Mommy has been breeding and looking after hundreds of Pocket Teacup Poodle Teddy Bears for more than 20 years, surely she's the only one with the most experience in such special breed, definitely more experiences than any veterinary clinic or anyone in this world!
We even had the Autralian Quarantine Station apologised to our Pocket Teacup Poodle owners that they made a mistake for not believing in us: they were shocked to see poodles of such small size that they thought it was an underage puppy; turned out to be Pocket Teacup Poodle Teddy Bears have their own unique development pace differently to ordinary canines and they learned their first lesson about such a special poodle breed from us. These are all valuable feedback from our Pocket Teacup Poodle owners around the world that we cherish very dearly.

YouLong Teddy Bears are all around the world, from Hong Kong, Australia, UK, USA, Brazil, South Africa, to Japan, Italy, Belgium, China, Germany, Macao, Switzerland, Netherlands... and so on more than 30 countires
they all live happily and healthily with their new families and share many joyful and unforgettable moments every day.

We are proud to say that almost 99% of our Pocket Teacup Poodle Teddy Bear owners have been so willing to learn from Teddy Mommy with their most humble attitude, not only they perform the instructions step by step as taught, the first person they'd seek for help would be Teddy Mommy if any problem or question occurs. None of them waited until it was too late for anything.
If the owner insists on doing things their own way for such RARE poodle breed like Pocket Teacup Poodle Teddy Bears
and listens to NOTHING to a word Teddy Mommy suggested, NOR follow her care instructions...
well then there's nothing we can say but that these people do not handle their Poket Teacup Teddy Bears cautious enough nor do they have the right attitude
to learn from the professionals. Perhaps our petite, unique and precious Pocket Teacup Poodle Teddy Bears
are not the ones for you.
➡️

We've had hundreds of buyers purchasing their Pocket Teacup Poodle Teddy Bears from us, and we

NEVER deceive their trusts, or not ship out their puppies as we were supposed to. How is our business YouLong ever a fraud to anyone?


You really need to be

re-educated

on your knowledge and perspectives about Poodle Teddy Bears
you

take no advice from anyone,

nor are you

willing to revise and acknowledge

the mistakes you made during the process.


Perhaps all you cared about was money or getting a new puppy in return, but to us, Pocket Teacup Poodle Teddy Bears
are our children, and we promise to

save her last dignity

by finding out the

true reason of her death.

We do not wish for her to be given the name of mistaken as

heart diseases

which she never had Fei Fei

was a happy, healthy child before she died of the lack of care from the owner.